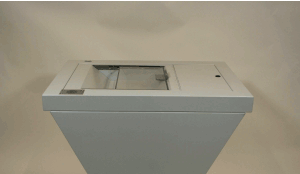 Within the last decade the number of robberies from petrol stages where firearms are used has reduced by a dramatic 81%*, which can be attributed to the many improvements or changes in cash management, trading style, police response and physical security systems.

Despite this reduction, a large number of non-firearm related garage robberies still occur each year, where petrol station workers are put at risk due to insufficient physical attack prevention; something that can be easily and cost effectively implemented.

Petrol station night pay windows provide a simple yet effective way to help make night-time transactions safe and secure. KS Security's Secure Transfer Unit (STU) is designed specifically for use as a garage night payment hatch, enabling the easy transfer of goods and the taking of payment.
Our petrol station night pay hatch can be supplied and fitted to an existing canopied external wall, where there's an existing window or a previous garage night pay window. Alternatively we can manufacturer external attack resistant glazed units to your size and specifications.
Petrol Station Night Window Design
Provides protection against physical attack
Easy to use, manual operation
Cash tray – for smaller items and receiving payment via cash or PDQ
Large hopper – for multiple or large items
Built in electronic audio system, with integral hearing induction loop;
Optional wireless headset
Secure operation, only operated via the secure side
Standard Light Grey RAL:7305;
With Optional Customer Specified Colours
*Home Office Statistical Bulletin: Homicides, Firearm Offences and Intimate Violence 2009/10